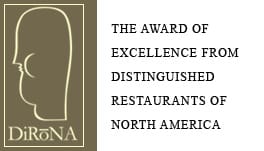 L'Allegria is the proud recipient of the – DiRoNA (Distinguished Restaurants of North America) Award – Joins the Ranks of the Most Celebrated Restaurants in the United States, Mexico, and Canada.
More than just the freshest and most genuine ingredients going into our food. Every dish is directly influenced by the finest traditions of Italian Cuisine and the land and history that made them so.
Thank you to our wonderful and distinguished clientele, who have supported our efforts through all these years.
Buon Appetito,
Saverio & Giovanni Allocca
Timeless Italian Culinary Experience
Our charming cafe is always open! Join us before or after a theater or a movie for cocktails, appetizers, dessert & cappuccino. Lunch and Dinner are also served, along with a new cafe menu.
L'allegria, conceived by brothers Saverio and Giovanni Allocca in 1984, experienced a meteoric rise to stardom. It has maintained its lofty status due to Allocca's dedication to optimum quality. The fashionable ristorante, with the casual feel of al fresco dining in a Mediterranean courtyard, features proficient, unpretentious European-style service, an award-winning wine cellar, and a New York City-trained kitchen staff. The delicate blend of exquisite renditions of authentic cuisine and wines from Italy's diverse regions and L'allegria's charming ambiance create the quintessential Italian dining experience. As a result, L'allegria consistently wins restaurant critics' acclaim and diners' applause.
Since opening in early 1984, we have been dedicated to bringing the finest and freshest products. Presenting them innovatively and interestingly while adhering to the best tradition of fine Italian cuisine.
We want to thank you and extend our great appreciation to our wonderful and distinguished clientele, who have supported our efforts throughout all these years.
Buon Appetito,
Saverio & Giovanni Allocca ca
OPEN 7 DAYS A WEEK FOR LUNCH AND DINNER